Fairchild C-119 Flying Boxcar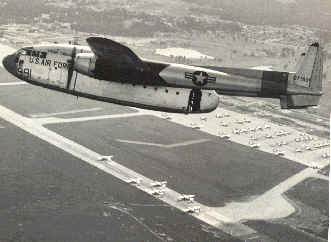 The Fairchild C-119 Flying Boxcar was a twin-engine medium transport used by the US Air Force during the Korean War. The C-119 was developed during 1947 as an improved version of the C-82 Packet. The C-119 had a crew of five and could carry up to 78 troops or up to 62 paratroopers.

The USAF's 314th Troop Carrier Group, equipped with C-119s, began arriving in Japan during August 1950 to increase the Far East Air Force's airlift capacity. The C-119s in the Far East experienced such a severe shortage of spare parts that by mid-1952 only 28 C-119s were flight-worthy of the 71 that were available. In addition, the C-119s were limited to carrying only six tons of cargo due to weaknesses in their undercarriage. Due to these problems, during the Korean War the C-119s were primarily used for airborne operations and for air-dropping supplies.

The C-119's problems were later resolved, and they remained in US Air Force service through the Vietnam War.